What is that mountain? How tall is it?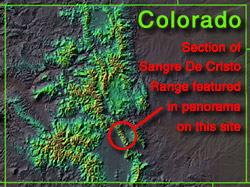 This site takes a close-up look at the Sangre de Cristo range as viewed from the east side of the Wet Mountain Valley (near Westcliffe and Silver Cliff, Colorado). The panoramic photograph was taken by Richard Carson.
Find out here...
Click Here for a full-size panorama.
When the panorama opens up, you can scroll to see the entire photograph.
The panorama may be viewed with or without labels.